---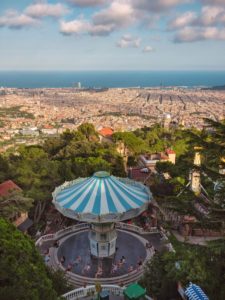 Whether you're visiting for a quick weekend or planning a whole week in the fabulous city of Barcelona, BarcelonaTours has a premium selection of activities to choose from, day and night.
From traditional Spanish cooking classes and Flamenco dancing to the less traditional options such as our brilliant Photo Treasure Hunt or a Cocktail making class, BarcelonaTours has something to boost your time in this city.
Day Activities
Whatever the weather in Barcelona, we have an awesome daytime activity for you. If it's roasting outside and the pavement is sizzling, we can send you across the waves on a Private Boat trip or set up a beach volley court so you can enjoy the sun while still having access to the cooling ocean. Visit our Daytime Activities section for more ideas and options.
Night Activities
Like New York, Barcelona is a city that never sleeps, and at night the streets are still bustling with activity and fun things to discover. Choose one of our exciting Night Activities to guarantee a good time when the sun goes down. Learn how to make the delicious Spanish drink Sangria, while tasting a few glasses along the way, and then use that extra confidence to enjoy a Salsa Class followed by a three-course dinner in a fabulous restaurant.
Contact us now to create your ideal holiday in the city and one of our agents will set to work helping you make the most of your time here.