Organise Yacht Charter in Barcelona!
Skip to online booking and what's included.
Calling all sea lovers!  Why not charter your own private yacht for your group or family during your trip to Barcelona. It's a great way to make the most of Barcelona's brilliant location beside the sea and spend time with your friends, cruising along the coast in a comfortable yacht.
Yacht Hire in Barcelona: Book online!
Choose from available dates and sailing times – click the "Book Now" button below to open our secure online payment system. We require a 50% deposit to secure the boat (non-refundable) and the remaining balance on the day of your trip.
Booking Instructions
Click on "Book Now"
Select the date and the time, then click "book now"
Pay a 50% deposit
You will receive a confirmation email with the itinerary
Pay the remaining balance  on the spot the day of your trip.
Please choose the number of hours you wish to book (2-hours, 3-hours or 4-hours) and the number of participants there will be on the yacht (up to 11 pax per boat).
Price for 2 hours: from 299,00€ in total
Price for 3 hours: from 389,00€ in total
Price for 4 hours: from 479,00€ in total.
Please note boats booked online will depart from Port Olimpic – Moll Maestral unless otherwise specified. If you wish to book a tapas delivery, please send an email to info@barcelonatours.net.
STARTING PORTS
Port Olimpic – Moll Maestral
INCLUDED

Skipper
Private sailing boat
2-3 drinks and light snacks

NOT INCLUDED

Transfers to/from the port.

FOOD/DRINKS
2-3 drinks per person and light snacks are included. You may bring along your own additional food & drinks, or we can arrange a food and drinks delivery (ask for a quote).
Your private skipper will take you on a memorable journey from one of Barcelona's ports, along Barcelona's beautiful coastline. All you need to do is sit back, relax and take in the sound of the waves and the rays of the beautiful Mediterranean sunshine.
WHY HIRE A YACHT?
Yacht Hire in Barcelona couldn't be easier!
Flexibility
Whether you are visiting at the weekend or on a weekday, in winter or in summer, for a birthday or just a holiday, we offer flexible options for your group.
You can choose to leave from Port Vell, which is located near the Barceloneta neighbourhood, or Port Olimpic, located at the edge of the Poble Nou neighbourhood. Both ports are easy to reach by public transport, private transfers or taxis, so either one will suit your group, but please let us know if you have a preference when you book.
We are also flexible when it comes to dates and timings. Whether you want to take a yacht in the morning, afternoon, evening, or even a sunset charter, we can arrange it. Even if the busiest of seasons (from April to September), we will do our best to get you a yacht charter for the time and date that you need it.
As this is a private charter, you can request 'swim stops' from the skipper whenever you choose. This is a great way to enjoy the Sea while cooling off from the hot sun. Food and additional drinks can be arranged; please request a quote for light tapas. More substantial catering can also be provided upon request.
Yacht capacity
Our yachts have capacities of up to 11 people. For larger groups, more than one boat can be hired or you can select our Private Catamaran Charter, which can carry up to 28 people. We also offer shared cruises in Barcelona too.
WHO SHOULD BOOK A YACHT TRIP
Yacht trips are great for:
•    Corporate groups looking for a break from the conference room
•    Families wanting to add a special treat to their Barcelona break
•    Groups of friends.
Learn more about boat charters in Barcelona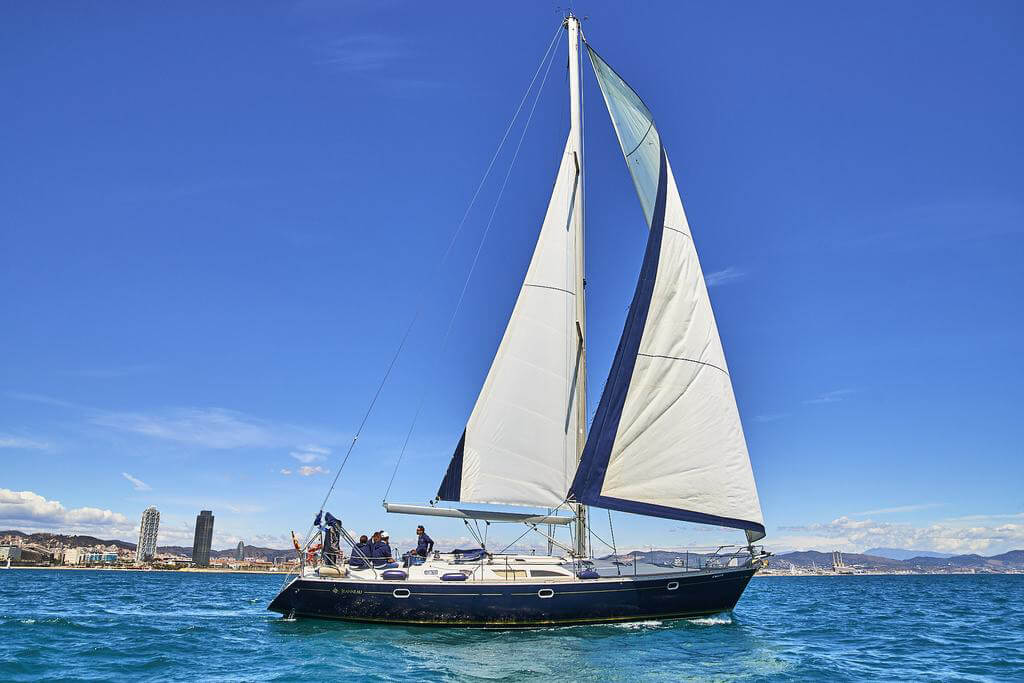 Private Yacht Charters in Barcelona
Sailing the Mediterranean Sea Booking a private yacht charter in Barcelona is one of the best ways to enjoy what Barcelona has to offer. One of the most gorgeous sights when looking over the Mediterranean from the shoreline, are the little white sails routinely dotted all over the horizon. Locals love to sail and make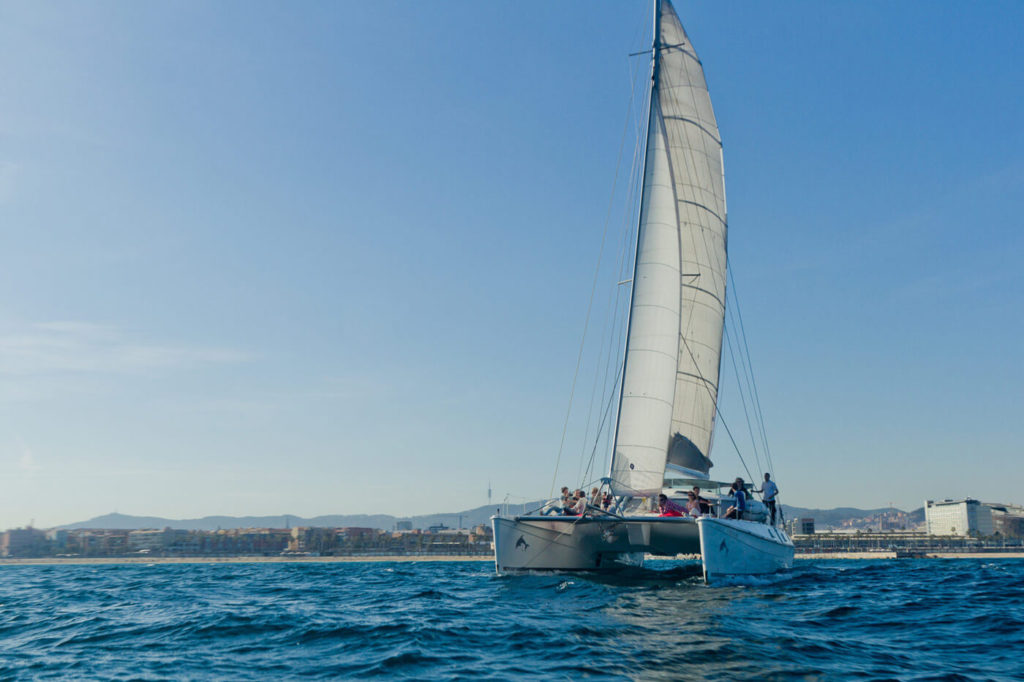 All Aboard! Boats and Yachts Rental in Barcelona
Rent a yacht or boat in Barcelona and make your trip a whole lot more exciting. Barcelona is known all over Europe as a beautiful, vibrant metropolis, with so much to do within its narrow, winding streets. It's also known for its long sandy beaches, where you can look out at the beautiful Mediterranean Sea.
Boat cancelations due to weather
In the unlikely event the skipper deems the weather unsuitable/dangerous to sail, then the boat trip will be canceled. You will be offered a full refund or the chance to re-schedule the trip for another day.
Unsuitable/dangerous weather is defined as heavy rain, strong winds and/or dangerous sea conditions. In the event of light rain and winds, where the skipper is happy it is safe to sail, then the trip will not be canceled and we cannot offer any refund should you choose not to take the trip. 
For sailing trips reserved in the Spring or Autumn, where the weather can be cooler and more unpredictable, we suggest that our groups ensure they wear and take appropriate clothing, such as waterproof jackets.