Book a Barcelona Photo Treasure Hunt! A traditional treasure hunt involves solving clues and following a map, and our Photo Treasure Hunt still has these classic elements included. The extra-special part? Each team will also get an instant camera and a photo album! The best memento of your team building in Barcelona.
You can also check out our other Team Building activities and Private Tours in Barcelona.
VENUE
Centre of Barcelona
INCLUDED

Treasure hunt materials
Instant cameras & films
Bilingual assistants
A photo album for each team
Prizes for the winners.

NOT INCLUDED

Transfers to/from the activity
Venue for the prize giving.

NO. PEOPLE
8 – 200 (enquire if your group is larger)
What happens in the Barcelona Photo Treasure Hunt?
Your group will be split into teams and each will be given a backpack with:
A map
A clue booklet
A scavenger hunt list
A vintage Polaroid camera
A photo album
Pens.
And what do you use all these exciting items for, you may be asking? Read on to find out…
The map
We now live our lives with satellite maps. Gone are the days of fussing around with a giant paper map, missed exits on highways and wrong turnings; you just pop an address into your phone and follow the blue line. Well, not on our treasure hunt!
We will give you a laminated paper map with directional arrows printed on it to help you make your way around the Old Town in Barcelona. We have split the Old Town into sections and you must follow the map through all these different sections answering questions. A full circuit of the Old Town searching for answers will usually take between two and three hours.
Where are the questions? Well…
Barcelona Photo Treasure Hunt : The clue booklet
This booklet has questions about the areas you will be exploring. Think of it as being like a quiz you would have taken at school, except you're searching for the answers by looking around you, in the streets, on the walls, in the architecture.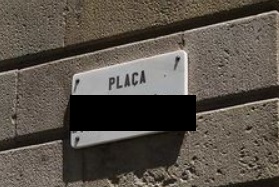 We have taken photos around the Old Town in Barcelona and you will have to find where those photos have been taken in order to answer the questions. For example, here we a photo of a sign in a local "plaza".
We have obscured the name of the square – your group would need to find the correct square, the correct sign and fill in the name of the square, it's as simple of that. Of course, some of the questions are trickier than others, but if they were all easy it wouldn't be a challenge. Fill in as many answers as you can in the time allotted to collect points.
The scavenger hunt list
A treasure hunt wouldn't be as much fun without needing to find some treasure along the way. A scavenger hunt is defined as a search for random objects in a specific area. We will provide a list of five objects that you need to find in the Old Town of Barcelona – how you get them is up to you. You can buy them, borrow them or find them for free, just make sure you get them all for an extra 100 points. We will also give out extra points for creative submissions!
The vintage Polaroid camera
As well as taking you on a trip through Barcelona, we want to take you on a trip down memory lane… Before everyone had cameras on their phones and was constantly snapping selfies, an instant Polaroid camera was the only way to get your photos straight away.
Each team will have their own camera with ten photos and will need to take some exciting and hilarious photos while completing the other challenges. Themes for the photos include "Flamenco dancing with strangers" and "Funny hats" so there are plenty of opportunities for fun and games.
The photo album
Exactly what it says on the tin! An album where you can stick your photos and keep them as treasured memories.
Pens
Well, do we really need to explain this?!
So, how do we win?
The winners will be the team that has collected the most points across all three challenges. While it is not a race, there are penalties for returning late.
Once you have completed all the challenges, you will pack everything back into your bag and head to the meeting point where you will hand your bag to a member of the BarcelonaTours team. We will count up all the points, work out who is the winner and present an awesome prize to the winning team.
Flexibility
If you have any special requirements or ideas for additions to the Treasure Hunt, we will do our best to accommodate your requests. Be it adding in extra questions that relate to your business or tailoring the route to best suit your timetable and/or location, we pride ourselves on our flexibility and ability to adapt this amazing activity.
The start point and finish point can also be arranged according to your needs. If your whole group is staying at one hotel, we can start and finish there; maybe you have a restaurant booked for after the event, in which case we can organise the prize-giving there. All these finer details can be discussed with your BarcelonaTours agent in the build-up to the event. We will ensure the whole event runs smoothly and, of course, that everyone knows who the winners are.
Optional extras
If you don't have a clear idea of where you would like to finish the event, we can help by booking a private space, bar or restaurant for you. This can be used as a spot for everyone to have a drink and to have lunch/dinner. We also organise reliable, high-quality transport for in and around the city which you can use for getting to and from the Treasure Hunt and for any other transport needs you may have during your stay.
Who is the Treasure Hunt appropriate for?
This activity is perfect for team-building as it gets everyone to work together to solve the puzzles. It will also ignite the creative spirit of your employees when it comes to taking the best photos and making memories together – you can even put the photos up on the office fridge so everyone can see what a great time you had.
The Treasure Hunt is also brilliant for private groups and an engaging alternative to the standard tours of the Old Town that everybody takes. Groups of friends and family will come away with some new information about Barcelona, having seen some of the best-hidden sights and a bunch of awesome photos to commemorate the day.
Book the Barcelona Photo Treasure Hunt if you're looking for:
Group activities in Barcelona
Team building in Barcelona.
Contact our team today to book your fun-packed Barcelona Photo Treasure Hunt: info@barcelonatours.net or 0034 935 008 226.
Learn more about Team Building in Barcelona