Book a private flamenco class in Barcelona to add some extra flair to your conference or holiday – clap your hands, stamp your feet and shout "olé!"
Skip to online booking and what's included.
Private Flamenco Class in Barcelona
Flamenco is a flamboyant form of artistry; a combination of dance, music and song. Learn flamenco techniques and moves together with your friends and colleagues.
Explore and experience the passion and emotion of this unique dance style for yourself with our experienced flamenco instructor. You'll definitely feel prepared for an amazing Barcelona flamenco night after this class!
Why book a flamenco class?
Flamenco dance is typically performed one person at a time. The benefit of this is that you can learn basic steps and arm movements, the secrets of the clapping rhythms "las palmas", and some choreography – all without needing to worry about treading on someone else's toes!
All you need to do is follow our expert teacher, who will help you relax and really get into the class.
Another reason flamenco makes a fun and engaging group activity in Barcelona is that it's unlikely anyone in your group will have tried it before.
There's no need to worry or feel self-conscious about not knowing the steps or even what flamenco involves! The key to a good group activity is fun, and we guarantee that your group will have a good time.
If you prefer to try some partner work, check out our Salsa Classes for groups.
---
Book online!
Choose from available dates and times. Click the "Book Now" button below to open our secure online payment system.
We require a 20% deposit to secure the booking (non-refundable) and the remaining balance is due one week before your trip.
Booking Instructions
Click on "Book Now"
Select the date and the time, then click "book now"
Pay a 20% deposit (if your booking is in less than 6 days, the full balance is due)
You will receive a confirmation email with the itinerary
The remaining balance is due one week before your activity; we will send you a payment reminder.
Prices:
Fixed price for groups of up to 10 people: 320,00€ in total
Fixed price for groups between 11 and 25 people: 26,00€ per person
Book Now (up to 10 pax)
Book Now (11+ pax)
If you have any additional questions, please send an email to info@barcelonatours.net.
VENUE
We have venues in Barceloneta and Gracia. We can also send teachers to other locations.
INCLUDED

Private 1 hour flamenco class
Centrally located venue

NOT INCLUDED

Transfers to/from the venue
Team Building and Group Activities in Barcelona
An excellent option for team building and private groups, you'll learn some basic flamenco techniques in our private flamenco class in Barcelona.
Try your hand at the footwork, arms, posture, turns and choreography and you'll be sure to impress your friends back home!
You don't need a lot of time for this activity, in just an hour you will learn some basic steps.
The class is held in a convenient central location and is a fun activity to enjoy in Barcelona with friends or colleagues, under the expert guidance of our experienced teacher.
Additionally, you can also book a private flamenco class, then follow up with a dinner and flamenco show in Poble Espanyol (all at the same venue). Contact us for more information.
Who should book this activity?
Private Groups visiting Barcelona
Corporate Groups looking for a fun, ice-breaker activity
Groups on a stop-off during a cruise
Check out our other fun Daytime Activities in Barcelona.
Learn more about Flamenco in Barcelona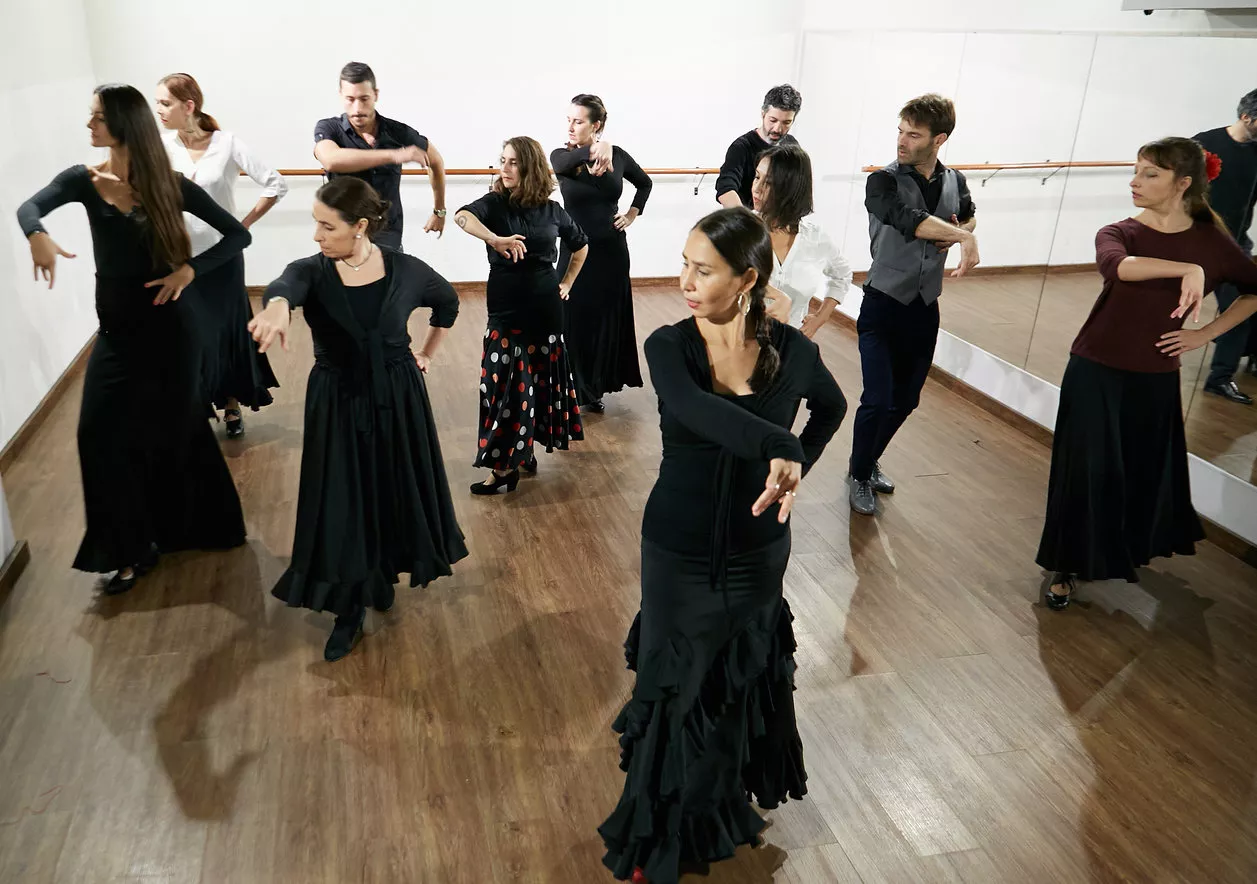 Team Building: A Flamenco Class in Barcelona
BarcelonaTours has been offering a private flamenco class for team building and group activities in Barcelona for many years. It has always been one of our most popular activities, and today we decided to put the spotlight on this activity and one of our hardworking teachers, Lucero. What is flamenco? If you type the word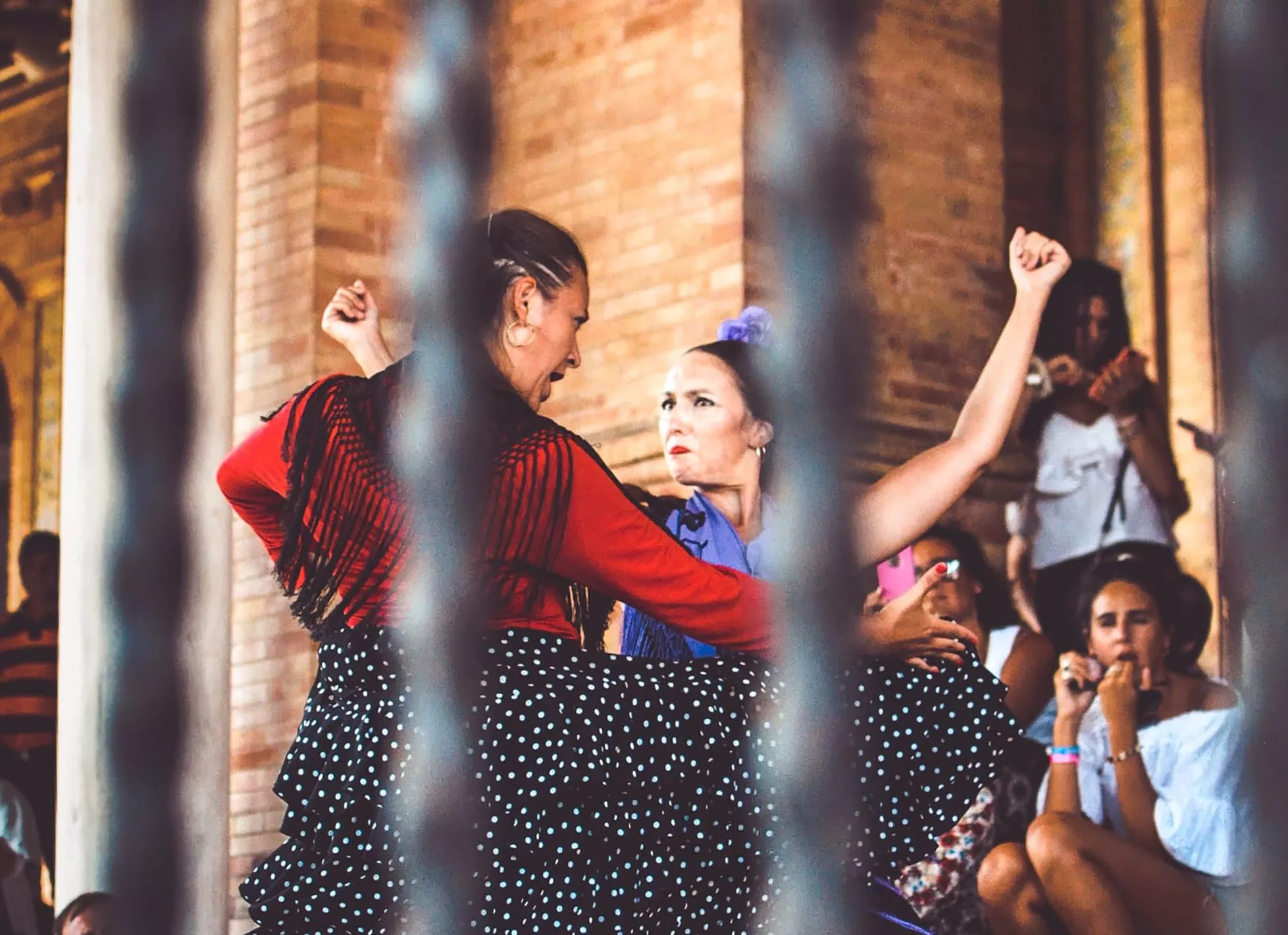 Flamenco in Barcelona
It is a common misconception that Barcelona is part of the very Spanish tradition of flamenco. This is not the case. Flamenco originates from the southern region Andalucía's contact with Arab (North-African) culture. The Catalonian folk music, on the other hand, with its root further north in Europe, could hardly be more different! This doesn't