Sailing in Barcelona
Booking a private yacht charter in Barcelona is never a bad idea. One of the most gorgeous sights when looking out of over the Mediterranean Sea from the Barcelona shore is the little white sails that are routinely dotted all over the horizon. Locals love to sail and make the most of the blue skies and you can too when you visit this amazing city.
Who should book a private yacht in Barcelona?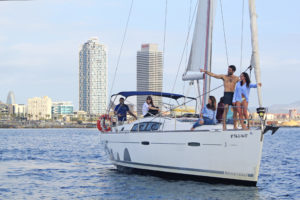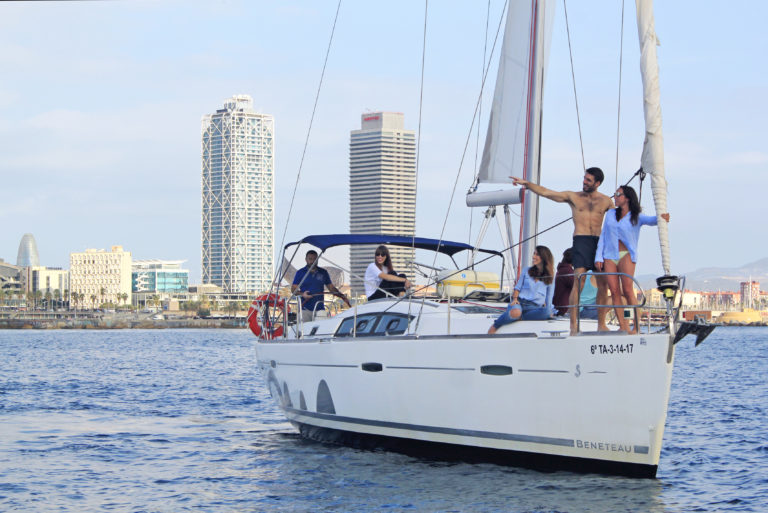 Small groups on holiday: celebrating, relaxing and everything in between
Private yacht trips in Barcelona are great for any group that are looking to spend a few hours on the sea. We use only clean, comfortable, spacious yachts and each boat can hold up to 11 people. Boats can be hired for a minimum of two hours, up to for a full day (eight hours). This gives you the option to choose between having a quick boat trip as part of a busy schedule or taking a full day to kick back and relax with friends or colleagues.
Included in the price is also a welcome drink, which can be cava, beer or a soft drink, and some "pica-pica", or small snacks, to go with the beverage. Imagine sipping on a cold, refreshing drink as you set sail over the waves on your private yacht.
We can also provide a catering service, ask for a price for this when you get in touch.
Yachts depart from Port Vell, Port Olimpic or the new Port Vela, all easily accessible from different parts of Barcelona.
Hiring multiple yachts: the more, the merrier
For groups larger than 11, you can hire multiple private yachts that will sail side-by-side; this can be great fun as the boats can all stop in the same place on the Sea and, in the summer months, everyone will be able to jump in and swim together.
Spreading the group over multiple yachts also gives everyone some more space to spread out and make the most of their boat trip in Barcelona. Sit towards the back and maybe the skipper will let you try steering the yacht! All sunseekers will want to stretch out on the front to soak up the rays.
Exceptional Skippers
We use only the best skippers to take charge of our boats! They are friendly, welcoming and ready to answer any questions you might have about the yacht itself or Barcelona's beautiful skyline which you'll be admiring from the best seats available.
All boats that we rent out include a skipper so there's no sailing experience needed.
Team Building Barcelona: Sailing Regatta
For large groups that are visiting for a corporate event in Barcelona, be sure to consider our Sailing Regatta as a brilliant way to enjoy the Mediterranean Sea and include some healthy competition to boot.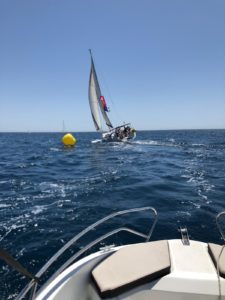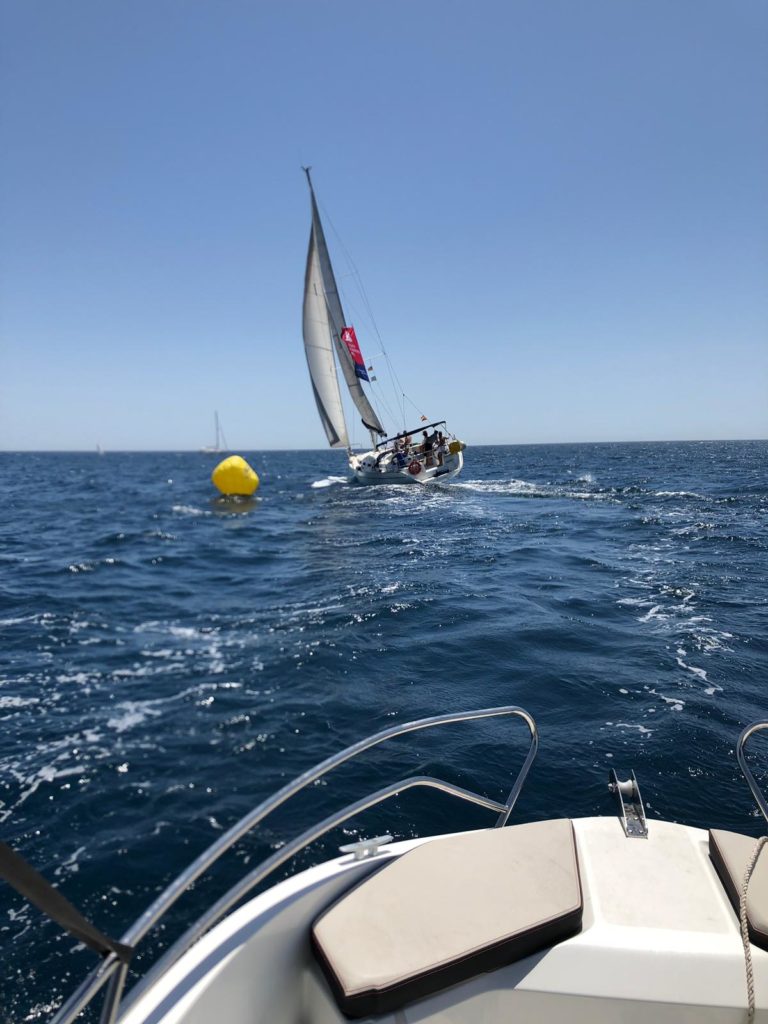 Your group will be split into teams and each team will board their own boat with their own skipper to teach them all the necessary skills to win the regatta. There will be a prepared route of buoys to be navigated during the Sailing Regatta in Barcelona and the winning team will be the team that finishes the course the fastest. The winners will get a delicious bottle of cava! Will you sip it demurely or shake it up over the losers like the winner of a Formula 1 race? You decide.
No previous experience is required but of course it will be an advantage for your team! There's no danger of getting lost at sea as you will have a support motorboat coming along for the ride – the motorboat team are also judge, jury and executioner… well, timekeepers and judges at least! Do your best to impress them.
Private Catamarans
We also have a number of stunning catamarans, check out our Boat Trips page for more information and look out for an upcoming blog on our catamaran fleet.