Charter Boats in Barcelona for Large Groups
We understand that booking boats for large groups can be challenging. We have an excellent selection of charter boats in Barcelona. Get in touch to see how we can help. 
When visiting Barcelona with a corporate group or on a group holiday, a private sailing boat or catamaran charter provides the luxury and privacy that your event attendees or guests will love.
The Mediterranean Sea is a serene place to relax and unwind, but also to celebrate and have fun. For a unique experience, a private catamaran charter offers the perfect space for people to connect on a personal level, in a beautiful environment.
BarcelonaTours has many different boats to choose from – all with varied styles, capacities, and catering options.
Corporate Boat Charters:
If your trip is work-focused, a private sailing boat or catamaran cruise in Barcelona is a brilliant end-of-conference treat. Your corporate group will feel the stresses of the week ebb away over the gentle waves with a drink in their hand and an unrivalled view of Barcelona's coastline.
Luxury Boats for Large Groups:
A private boat trip could also be the cherry on top of your luxury holiday. Your guests will breathe a collective sigh of contentment on a private catamaran, where they can watch the bustling city they have left behind in a whole new light.
Sailboat "Gineta"

Sailboat "Gineta" is an exciting vessel to hire for your private catamaran charter in Barcelona. It is an authentic Turkish Schooner, built in the famous coastal city of Bodrum, Turkey. Bodrum is well known for constructing these beautiful and ancient wooden boats.
This stylish and sophisticated sailboat is the perfect combination of a classic Turkish Schooner and a modern yacht. Old meets new in perfect harmony on board "Gineta".  With a maximum capacity of 80 people, this boat is available for hire from three and seven hours and will leave your group stunned at how you found such a gem in Barcelona.
We also have a number of fabulous team building activities that you can do onboard "Gineta". Check out the Escape Room on the Sea and the Barcelona Walking Tour and Boat Trip.
Sensation Catamaran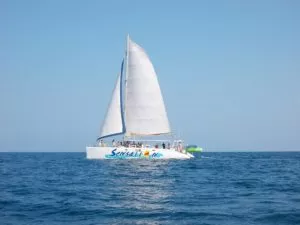 The Sensation Catamaran has a maximum capacity of 125 passengers and comes with everything your private group will need to have an exciting and energetic day on the Mediterranean Sea.
Available to hire for between three and seven hours, you have the choice of spending a morning, afternoon, or entire day on deck with your team.
Water and soft drinks will keep you cool and refreshed in the heat and the boat can stop off so your group can take a dip in beautiful blue waters. This private catamaran charter also comes fully equipped with snorkelling masks and other fun water activities to keep everyone entertained.
Whether it's your family, friends, or colleagues, the Sensation Catamaran will provide a day out that amazes and inspires. Music will accompany your adventure across the waves, and BarcelonaTours can organize catering to suit your needs.
Enquire about the Sensation Catamaran and we will help you plan your event to the last detail.
Catamaran "Wind 40"
The Catamaran "Wind 40" is an excellent boat for those looking to relax. Available to hire for between three and seven hours, its layout lends itself to an afternoon of serenity.
Comfortable nets are stretched across the back of the boat, with a makeshift hammock over the lapping water – perfect for watching the clouds go by. With beer and soft drinks included, as well as light snacks such as nuts and chips, this private catamaran charter is a great choice for a short breather away from the city.
The maximum capacity of this vessel is 80 people, so there's plenty of room for everyone to kick back and release the stress of everyday life.
Sailboat "Cruz del Sur"
Last on our list, but certainly not the least impressive, is the famous "Cruz del Sur" yacht. This yacht was commissioned by the British Royal Family, and has since been owned by many celebrities, including Frank Sinatra!
This yacht is 35 meters of pure luxury and taste, with a maximum capacity of 65 out at sea and 80 guests if it remains in the port. It has two large spaces for your guests to enjoy, one being the aft salon and the second the bow lounge. The aft salon has access to the bar and can also seat up to 14 people for a formal dinner, while the bow lounge can seat 10 guests.
Available to hire for three to seven hours, there's even a large kitchen should you wish to have a catering option. Throw in the boat-wide air conditioning, the speaker system that plays in every room, and the on-deck solarium and you have the perfect boat for your event. If it's good enough for the royals, it's good enough for your private boat charter.
Book if you're looking for:
Group activities in Barcelona
Team building in Barcelona
Private tours in Barcelona
Boat trips in Barcelona
Boats for large groups
Amaze your friends or inspire your colleagues with one of our fabulous private catamaran charters. Contact us for pictures, prices, and availability at info@barcelonatours.net or call 0034 935 008 226.
Looking for something smaller? Check out our small yacht hire.