Company name: Onna
Event date: 19 – 20th September 2019
Number of people: 60
Company details: A tech company that has employees in Barcelona, New York, North Carolina and Toulouse.
Activities provided: Photo Treasure Hunt, Basics of Mosaics, Graffiti Collective, Sangria Class, Desk Yoga class, Cava tasting, plus transport.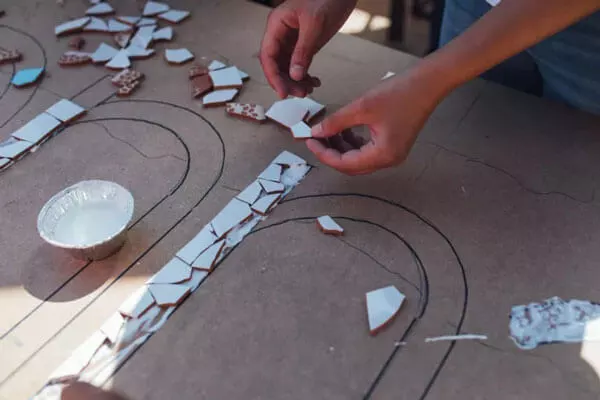 Event brief
Onna contacted BarcelonaTours in August to help organise some amazing team building activities for their company. The event was called "Onna Camp". The company wanted Onna Camp to bring people together from their different offices.
This was their first global reunion, so Onna wanted to make this super fun, interactive, and inclusive. While they specifically requested to try our Graffiti Art Collective activity, they were also open to other ideas for Onna Camp.
They also informed us they had rented a villa in the city to host the event activities. wanted the activities to run concurrently, with each team member able to choose what to participate in.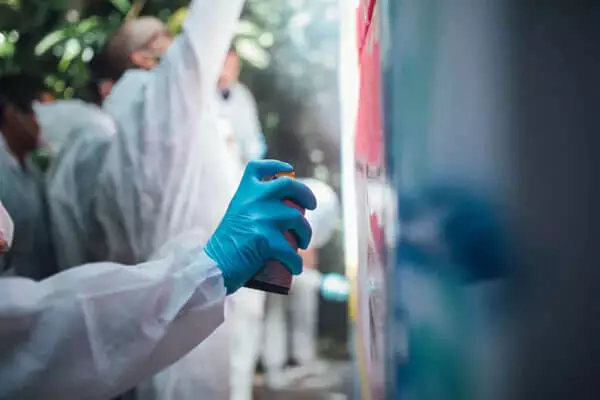 What we did
We started out by providing a proposal with lots of fun and interesting ideas for the client to choose from. Onna then came back to us with a list of activities they were interested in: treasure hunt, graffiti, mosaic making, yoga, cocktail classes and our transport services too.
As Onna had already rented a space for their event, we set about organising how we could do each of their selected activities in the villa and the best rooms/areas to use for each activity. This was done through a site visit a couple of weeks before the scheduled event date. The rest of the organising was done through conference calls and emails between Onna and BarcelonaTours.
The venue chosen by Onna was called Los Tilos. This venue is available for hire for private events and has ample space for large groups.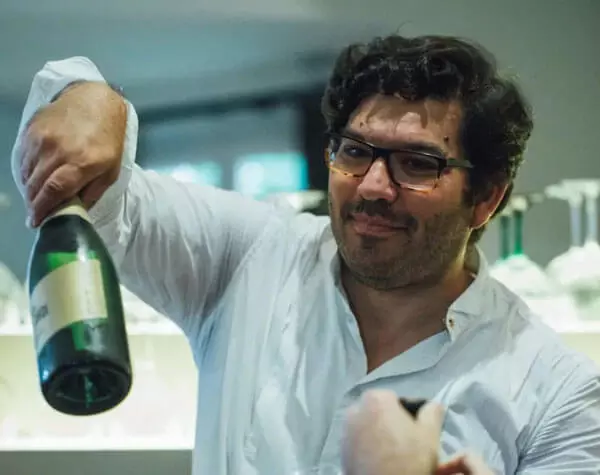 The event
On Thursday 19th September, guests who had chosen to do so took part in the Photo Treasure Hunt. On Friday 20th September, guests could choose which activities to take part in at the event venue. A member of the BarcelonaTours team was on site for the full day to help with logistics and managing the day's activities.
All the activities (apart from the Treasure Hunt) were held in Los Tilos and the space was a gorgeous spot for Onna Camp.
Each activity had skilled and professional instructors that brought along the materials for the activities where needed. The Sangria Class, Mosaic class and Graffiti Collective activity were done outside as the weather was great, while the other activities took place inside. You can see photos of the event below.
The activities, as well as being fun, were a mixture of educational, practical and relaxing. Desk yoga was included to teach people how to incorporate stretches and gentle movement into working day, something that is very much needed as many people spend most of the day seated at a desk; the mosaic and graffiti activities brought people together through artistic expression and creation, while giving guests the opportunity to take part in something they might never have tried and might never do again; finally, the sangria class and cava tastings were an educational look at Spanish wine and cocktails, and a delicious way to experience these drinks.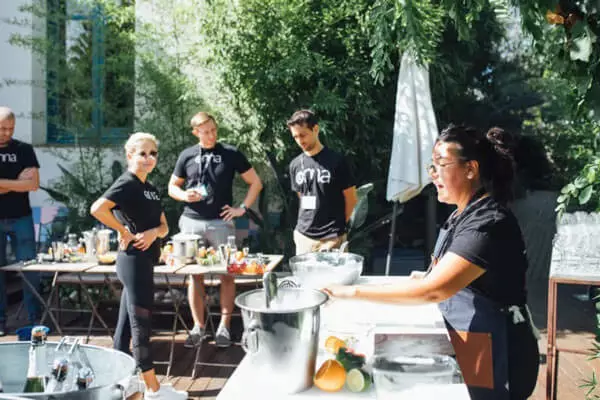 The results
Onners were very happy with the event. The Google review read: "We hired Barcelona Tours for our offsite retreat in Barcelona. They were AMAZING! We organized a scavenger hunt, sangria making class, cava tasting, graffiti workshop, mosaic building, as well as transportation throughout the city. Every activity was flawless and perfectly executed. We were super pleased with their service and will definitely work with them again."
Activities breakdown
Photo Treasure Hunt: 30 guests took part in this activity, 3 hours in duration. We also organised transfers from the company's office in Barcelona for this. The Treasure Hunt involves exploring the Gothic quarter and taking pictures with Polaroid cameras, which Onna then could keep as a memento of the day.
Graffiti Art Collective: organised for up to 60 guests, up to 3 hours in duration. Onna stated they wanted the theme of their art pieces to be "Barcelona" and "New York".
Mosaics Design: organised for up to 60 guests, up to 3 hours in duration. Onna means "waves" in Catalan, so the company created a design using the colour blue and the design was then to be hung in their office after the event.
Sangria making class: organised for up to 20 guests, 1 hour of instruction. They learned how to make 3 different types of Sangria (1 traditional, 1 with cava and raspberries and 1 with white wine, green tea, mint and jasmin).
Cava tasting: organised for up to 20 guests, 1 hour of instruction with professional sommelier and a tasting of 4 different cavas.
Desk yoga: organised for up to 20 guests, 1 hour of instruction.
All the activities are adaptable to larger groups.
Would you like to book an event with BarcelonaTours.net?
Please get in touch if you would like to organise an event in Barcelona: email info@barcelonatours.net or call +34 935 00 82 26.