Are you visiting Barcelona in February and want to know what to do? If so, BarcelonaTours has you covered.
February is a great month to visit Barcelona and this year is no different, with lots of activities and things to see and do. The evenings might be cooler, but there's still warm sunshine in the afternoons and bright blue skies for wintery walks – plus plenty to see and do in the city.
Although February is the shortest month of the year, you won't be short on options for how to enjoy your time! As well as some important festivals and the Barcelona city carnival, the Mobile World Congress is also happening this month. See our blog about MWC 2023, here. 
To plan events in Barcelona, please visit our Team Building and Activities pages, or see our Executive Services which include airport transfers and Restaurants for Groups.
Llum BCN "light arts" Festival 2023
When: Feb 3-5
Where: Poblenou and Glories
Price: Free
This is the festival of lights that Barcelona holds every year. The neighbourhood of Poblenou lights up for three nights in February and is an area of the city originally filled with textile factories and surrounded by residential buildings.
When this industry collapsed, the area suffered greatly, falling into a state of disrepair. Thankfully, as with many parts of Barcelona, it was the 1992 Olympics that saw some life brought back into this neighbourhood. Renovations, as well as bright and exciting ideas being trialed in the area, have revived the once ailing "barrio" and this year it will host the equally bright and exciting Llum Festival.
This festival focuses on the talent of artists from all over the world, as well as local students, to create immersive experiences with light. As night falls, Poblenou is ignited by lights of every colour, as well as areas with light projections set to music and sound – in particular around the Disseny Hub Barcelona (the Design Museum) which is an amazing building with fountains around the edge.
Llum festival is held every year, so be sure to make a note for 2024. To learn more, visit this page.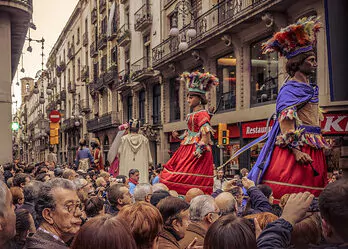 Santa Eulàlia Festival 2023
When: Feb 12
Where: Around the city centre, mainly in the Gothic Quarter
Price: Free
Also known simply as the Winter Festival, the Festival of Santa Eulàlia (Festes de Santa Eulàlia) celebrates Barcelona's lesser-known Patron Saint, Saint Eulàlia.
Eulàlia was a 13-year-old girl who, during the 3rd century AD, was punished by the Romans for refusing the recant her Christianity. As the tawdry tale goes, the Romans decided to make an example of her, subjecting the young girl to 13 tortures – one for each year of her life – eventually decapitating her.
One story says that moments after her head was removed, doves flew out of her neck, signifying that God had blessed her. Interestingly, inside the Barcelona Cathedral, which is dedicated to Santa Eulàlia, 13 white geese are kept in the beautiful cloister.
Highlights of the celebration include showcases of popular Catalan traditions, such as Castells (human towers), gegants, correfocs – you can find our full explanation of these traditions in our September blog – and sardanas. A sardana is a traditional dance that involves precise footwork and timing; the steps might look easy but it's hard to do this perfectly! If you're not around the weekend of this winter festival, you can see sardanas every Sunday in front of the Cathedral.
The Cathedral, amongst other buildings (such as the Town Hall), opens its doors for free on February 12, the official day of Santa Eulàlia, with the crypt under the Cathedral only opening on that special day. In the crypt, you will find the ornate sarcophagus, carved in the 15th century, which supposedly holds Eulàlia's remains.
To learn more, visit this page.
Barcelona Carnival 2023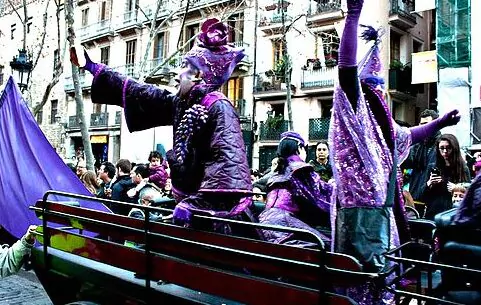 When: Feb 16-22
Where: All over the city
Price: Mostly free
Carnival takes place in different countries around the world, with the underlying principle of enjoyment and freedom of expression. The date for Carnival (or Carnaval) changes each year depending on the lunar calendar and is celebrated the week before Lent begins.
This year it falls in February and it will be another colourful spectacular not to be missed. Catch people dressed in traditional carnival costumes, donning masks and creative makeup, parading down the streets. You can take part in various local activities around the city. For a full programme (in Catalan only) go here.
Since there's so much on offer, for some event highlights, take a look at this article from El Naciónal (in English), which tells you the main places to be to catch the best parts of this week-long fiesta.
Calçots: A classic Catalan Dish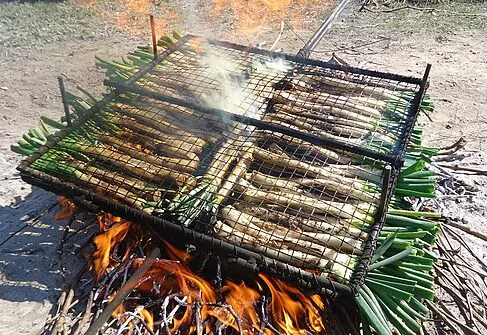 When: Saturdays & Sundays
Where: All around the city
Price: Varies from place to place, but a full menu will include: calçots, a selection of meats, romesco sauce (absolutely delicious!), bread, wine & water.
If you haven't come across the term "celebrity vegetable", we are not surprised! However, it is possibly the best way to describe calçots, a vegetable that is eaten with great enthusiasm across Cataluña when they are in season (November to April). Try them in Barcelona in February.
The calçot is a type of onion (akin to a big spring onion), with a flavour similar to leeks. They are traditionally barbecued over an open flame until the outside layer of skin is blackened and the insides are soft; you then remove the burnt outer skin, dip the calçot in romesco sauce – traditionally made with nuts such as almonds and hazelnuts, blended with roasted red peppers, tomatoes, and other smoky delights – and lower it into your mouth from over your head.
Wherever you eat these delicious calçots, bibs and gloves are usually provided so this messy treat doesn't spoil your clothes. People usually down around 15 or so, before the second course of the meal – grilled meats with bread and more romesco sauce.
Locals will buy all the ingredients and head out to the countryside in order to hold their own barbecues. If you're on vacation, there are many restaurants across Barcelona in February that offer calçots. But if you want to really get into the spirit of the season, you should visit one of the street barbecues that take place almost every weekend in a different part of the city.
In February/early March, you will find a "calçotada" (the name for these barbecues) in various locations.
This blog was originally posted in January 2019 and updated in February 2020 and 2023.