BarcelonaTours has been offering a private flamenco class for team building and group activities in Barcelona for many years. It has always been one of our most popular activities, and today we decided to put the spotlight on this activity and one of our hardworking teachers, Lucero.
What is flamenco?
If you type the word "flamenco" into a search engine, you'll find the following definition: a style of Spanish music, played especially on the guitar and accompanied by singing and dancing.
As is often the problem when describing music and movement, this does not even begin to scratch the surface of the passion and drive that goes into flamenco music and dancing.
Why does a flamenco class for team building make great activity?
First and foremost, a flamenco class for team building engages your team members in an activity that is directly related to Spain and Spanish traditions. While Flamenco is not native to Barcelona, it's still popular and people love to hear the music and go to shows.
Secondly, it's likely to be something your group has never tried before. This is not a team building activity you're likely to be able to find outside Spain so it's a great idea to give it a try while you're here!
How does a Flamenco Class for Team Building work?
Learning some basic clapping rhythms and steps is a fun and appealing way to get people to let loose and try something new. There's no need to worry about people feeling embarrassed about being better or worse at flamenco because everyone is a beginner.
Finally, the start time and location are easily adjusted to suit your needs. It's suitable if you have a spare hour during a busy itinerary and would like a teacher sent to the hotel or venue. Alternatively, our teacher Lucero has her own flamenco school in the charming Gracia neighbourhood.
Extras for a complete flamenco experience
For a full flamenco experience, have a flamenco class in Barcelona followed by our Flamenco Night at Poble Espanyol. We can also organise live flamenco music and bands, get in touch to find out more.
To read more about the history of how this Andalusian music and dance came to Barcelona, you can read our Flamenco in Barcelona blog. In this blog, we're more interested in the passion and drive that makes someone want to become a flamenco dancer and a flamenco teacher.
Interview with a Professional Flamenco Teacher
BarcelonaTours has been fortunate to work with Lucero for a very long time and our groups have always loved her classes. We interviewed Lucero to find out more about her life and her flamenco school.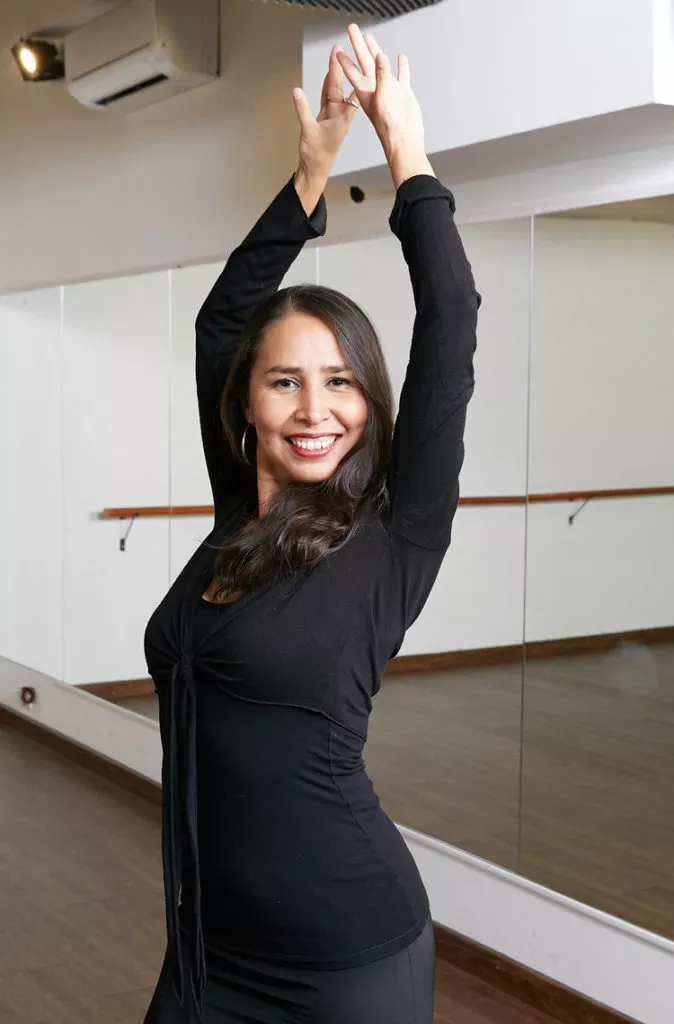 When did you start dancing flamenco?
I started dancing at the age of four. First, I did an introduction to dance, then continued with Spanish classical dancing and ballet. When I turned 18, I started dancing flamenco.
Who was your inspiration?
My parents were very supportive and took me to the dance school. After that, I decided to continue, and my inspiration to do so was my fellow dancers and professors at the dance school.
How long have you had your own dance school?
I have been teaching flamenco for more than 20 years. I've also had my own dance school under my own name, Lucero Cárdenas, for the last 12 years.
Most of our clients book a one-hour class, so what can they expect to learn in this time?
An hour is great to give people an introduction to flamenco. We begin with a brief history of flamenco and its origins, to put the flamenco universe in context for the participants. Then we move on to the dynamic part!
We will practice the rhythm of flamenco with "las palmas" (rhythmic clapping), learn the basic steps and finish by learning some choreography. Above all, we will be teaching the participants how much fun it is to dance flamenco!
Do you have a favourite place in Barcelona to listen to flamenco music?
I really like El Tarantos, but my school is a great place too! There are shows once a month and the setting is very intimate.
What about a favourite flamenco song and/or artist?
I like so many artists. An example would be La Macanita and their song "Tierra Adentro".
Plans for the Flamenco School
The pandemic made us realise more than ever the importance of dancing, taking care of our bodies and exercising. We want to be able to share this dance with a wider audience, so they can also benefit from the joys of flamenco. We want to reach more people, share our passion and teach them the benefits of flamenco, so as many people as possible can enjoy this wonderfully expressive dance for themselves.
Keeping the school open all year round
Providing intensive Summer courses
Offering  Private lessons to clients
Increasing our presence on social media
Inviting renowned musicians and artists to our school
Collaborating  with different companies in our sector
Sharing our passion for authentic flamenco with our students
A big thank you to Lucero for sharing her story and her plans with us!
Team Building and Group Travel Services in Barcelona
As well as offering a flamenco class for team building, BarcelonaTours can help you plan your whole corporate event in Barcelona. Visit our Team Building Activities page and our Group Travel Services page for more information, then drop us a line at info@barcelonatours.net.
This blog was originally published on June 25, 2021, and updated on October 25, 2022.