If you've been searching for creative and affordable team building activities to do in Barcelona, you're in the right place.
Barcelona is an excellent location for your next team building activity, but with so many options available in this dynamic city it can be easy to blow the budget.
We've put together a list of some of our most popular, creative, fun, and wallet-friendly ideas below. Of course, there are plenty more where these came from. Visit our Team Building Activities page for more.
Barcelona Photo Treasure Hunt (Exclusive to BarcelonaTours)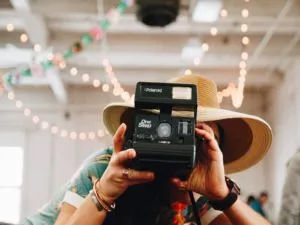 This is our most popular team building activity and it's suitable for everyone. Armed with clues, a laminated map (sorry, no Google maps allowed!), a vintage Polaroid camera and your sleuthing skills, you'll set off around the city in search of answers.
Your main group will be split into teams and armed with a backpack containing all you need. However, you will need to bring your smarts to this team building activity – unless, of course, you want to let the other teams win that is!
Winners take home prizes plus you keep your polaroids from the event as a memento of the day.
Good for: large or small groups, creative and problem-solving skills, seeing the city, keepsakes.
Find out more and reserve the Barcelona Photo Treasure Hunt here.
Grafitti Art Collective in Barcelona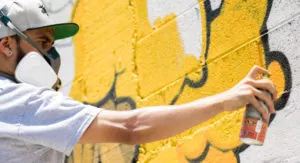 Unleash your inner Banksy with this creative, fun and memorable team building activity.
Barcelona has plenty of hidden corners (or rincones) to discover. And if creating art is more your style, then this is one of the best creative activities to do with colleagues.
In the activity, you will be guided by a street artist and given advice on how to approach your blank canvas. Do you want to choose a theme important to your company or create something stylised which includes your company logo? You are only limited by your imagination!
We make sure you have the right safety and protective gear before you start painting.
Good for: small or medium-sized groups, companies that want to make their mark creatively, fun, creative play!
Find out more and reserve the Graffiti Art Collective Project here.
Sangria Making Class in Barcelona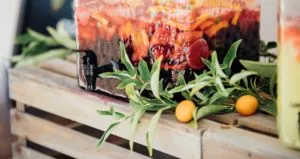 Team building activities in Barcelona can be whatever you want them to be! So if you're a fan of food and wine then this is a great option.
Whatever you do, don't drink cheap supermarket sangria. Instead, learn how to make your own in this enjoyable workshop – then, of course, enjoy the fruits of your effort as well!
The concept of mixing fruit, wine, spirits and soda together sounds pretty simple, right? That's where you'd be wrong! It's easier than you think to make a 'less than optimal' sangria, but in this class, you'll learn everything you need to make a classic sangria, a white sangria and finally, a Barcelona favourite – cava sangria.
Your teacher will guide you with the best flavour combinations. A good tip is to use seasonal fruits, but you can also throw in whatever you have to hand: oranges, peaches, red fruits, apples and more. Salud! 
Good for: small, medium or larger groups (6-20+), short team building activities, food and wine aficionados.
Find out more and reserve the Sangria Making Class in Barcelona here.