The popularity of plant-based diets has exploded in recent years. More and more people are reducing their consumption of meat, fish and dairy, and looking to get their nutrients from plants. People have also become more concerned about additives, such as artificial colours, flavours and preservatives in their food.
Vegan or plant-based diets may once have seemed restrictive. However, as time has gone on and restaurants have become more creative, the plant-based revolution shows no signs of slowing down.
Unique Restaurants: Impress your clients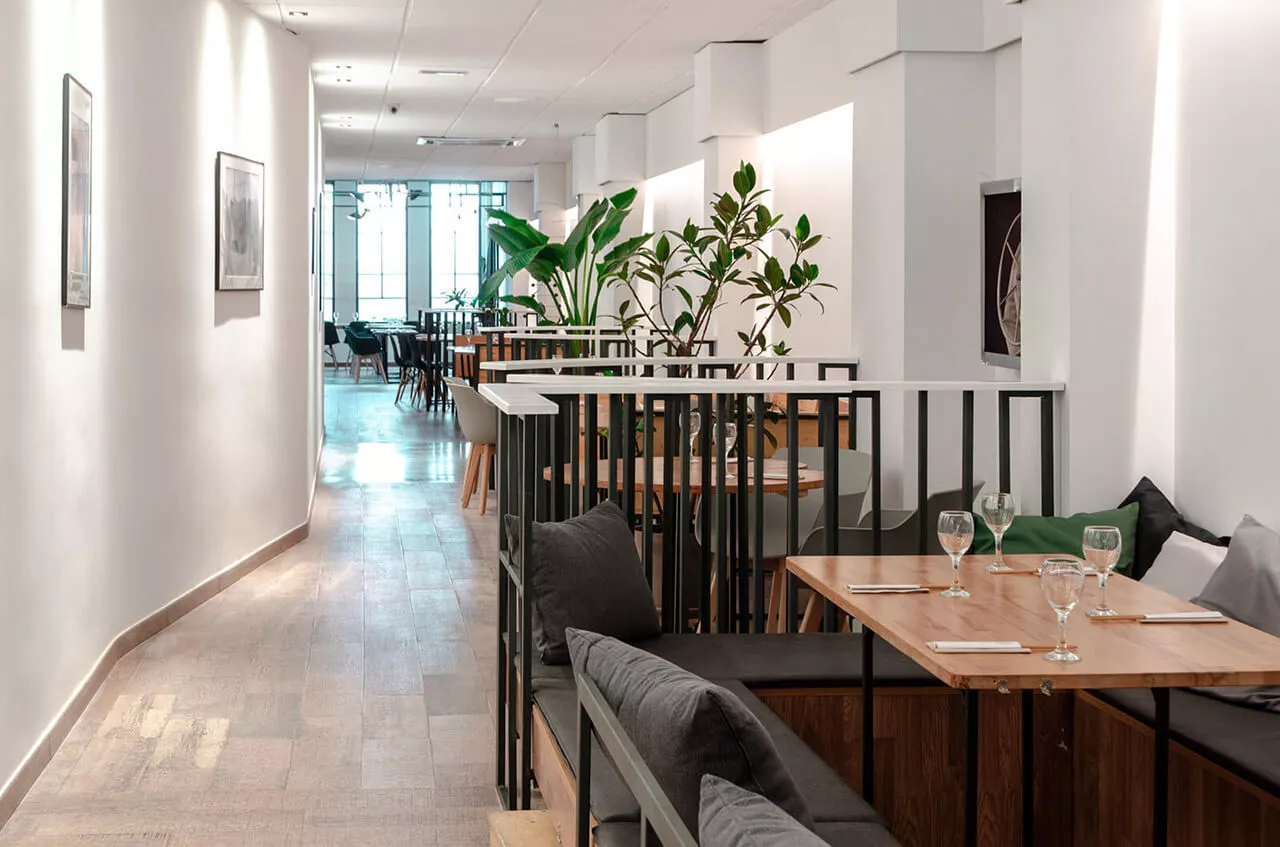 We're sure your clients are always looking for the new and interesting when it comes to booking group dinners in Barcelona. Host your group dinner somewhere that will get people talking and excited about plant-based food.
Enter Roots & Rolls. Opened in November 2018, Roots & Rolls is a delicious, stylish, plant-based restaurant located in the Eixample neighbourbood of Barcelona. Their original and innovative menu will satisfy carnivore, vegetarians, vegans and everyone in between, with the focus being on fresh, healthy, flavoursome food.
We are very lucky that their restaurant is located just a short walk from the BarcelonaTours office, so we have been able to sample a great deal of the menu.
The Restaurant: Group Dining in Style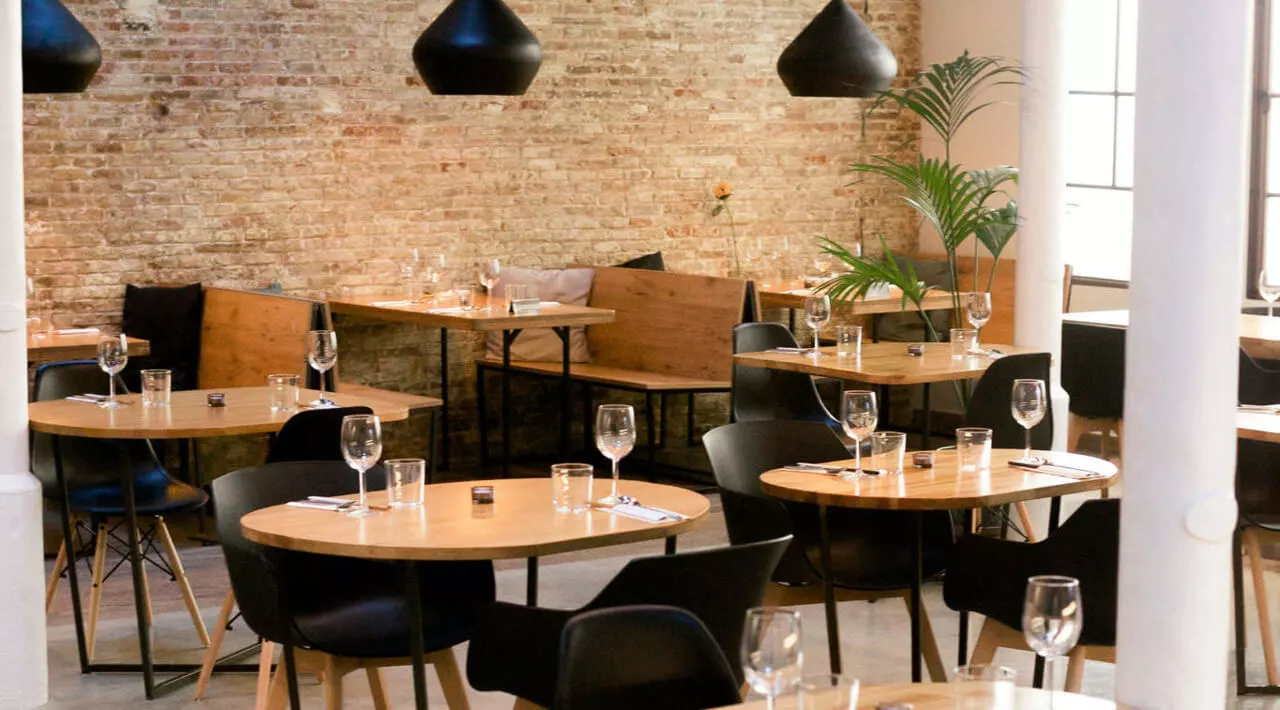 Roots & Rolls is light and spacious, making it a wonderful place for group dinners and events. Decorated in black and white with wooden floors and tables, this chic venue has private dining spaces, as well space for long tables. The restaurant also has a covered patio at the front, a great spot to share some sushi and a glass of wine with friends.
The capacity of the restaurant is 120 people, so there's plenty of space for everyone!
The Menu: Try the sushi
The stars of the Roots & Rolls menu are their incredible uramaki sushi rolls, each more creative in its flavours than the last. In their efforts to ensure that their sushi rolls are as jam-packed with flavour as their fish-featuring counterparts, Roots & Rolls went all out.
They have eight sushi rolls to choose from. You'll be forgiven for not being able to choose which ones to try, so they have helpfully included sushi tasting platters, ranging from 20€ for 20 rolls and two varieties of nigiri, up to 75€ for 46 rolls and three varieties of nigiri.
Our personal favourites are the "Srirango" roll, composed of black rice, mango, avocado, cucumber, roasted red pepper and topped with sriracha veganaise (a sriracha-infused vegan mayonnaise which adds a delightful kick) and "Kimchi-me", a roll of four grains, kimchi, cucumber, sesame tofu, spring onion, coriander & cashew pesto and gochujang veganaise.
Beyond sushi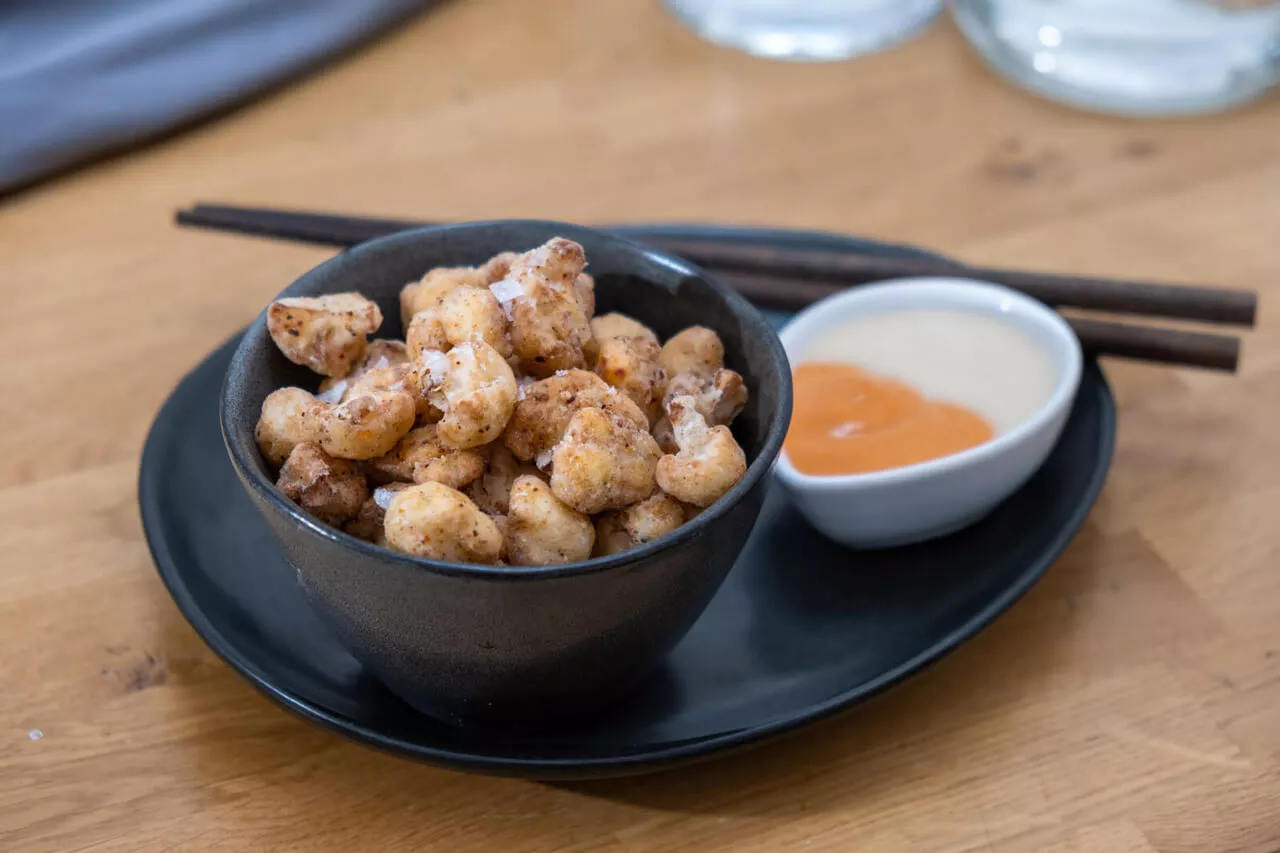 The delights don't stop at the sushi menu. The snacks ("pica pica"), starters and salads are great to share between your group, and then we come to the main dishes.
We love the rich thai red curry with sweet potato, figueres onions, courgette, portobello mushrooms, roasted red peppers, coconut milk and basmati rice, a dish sure to fill you up and warm you up in the colder months. Ramen lovers will be quick to order the tofu ramen miso, which layers up the flavours of dashi stock with shiro miso, prunes, shiitake, kombu, roasted peppers, caramelised figueres onion, portobello, sweet potato, pickled daikon, sesame, julienne veg and udon noodles.
As for the desserts, plant-based and healthy doesn't mean you can't treat yourself! Try to the chocolate avocado brownie or the chocolate truffle symphony for a rich, indulgent treat.
Group Dinners: Menus for Groups
Roots & Rolls currently offer two group menus starting from just 25€ per person. The menus offer a great cross section of the delicious food on offer, including an appetiser, a starter, a sushi platter, a main and a dessert – everything you need for a full and happy group.
Hungry to know more? Book your group dinner in Barcelona with BarcelonaTours and choose Roots & Rolls.
The Owners: An Interview with Sandra de Jong
We wanted to know more about the restaurant, the owners, their favourite dishes and their plans for 2020. We put some questions to Sandra de Jong, one of the two owners.
What made you want to open a plant-based restaurant?
It was a combination of many things. We wanted to create a restaurant that could have a positive impact in a stylish and elegant setting. Plant-based food has a much smaller impact on the environment and is better for the planet and, of course, for the animals. We also wanted to ensure the food was healthy, and plant-based food has been proven to be a healthy addition to any diet.
Why did you choose a Japanese-inspired menu?
So many reasons! A personal love of sushi played a big part. I had tried some inventive vegan sushi elsewhere and really loved it. I saw it as an opportunity to get creative as you can put so many complimentary ingredients into one sushi roll and make a real explosion of flavour. A lot of the vegan sushi you find in Barcelona is just cucumber and rice or red pepper and rice, so there was definitely a gap in the market.
Making food that non-vegans would love was also important. The food needed to be exciting and match or exceed the variety offered by non-vegan restaurants, and Japanese food, not just sushi but curry and noodle dishes too, is highly adaptable.
I also wanted it to be something that you wouldn't make at home. To make just one of our sushi rolls at home would take hours, so coming to visit us and being able to try multiple sushi rolls in a welcoming setting is a much better idea!
Which three-courses would you recommend to someone visiting the restaurant for the first time?
We would suggest four courses! It's difficult to say if sushi is a starter or a main in our restaurant, but we suggest following the sushi with one of our hot dishes. This way you will experience a little bit of everything we have to offer.
"Pica-pica"/Starter: Kale chips, cauliflower popcorn and the gyozas
Sushi course: a sushi tasting platter
Main: Kari coco (we described this Thai curry in a previous paragraph)
Dessert: Chocolate avocado brownie with ice cream.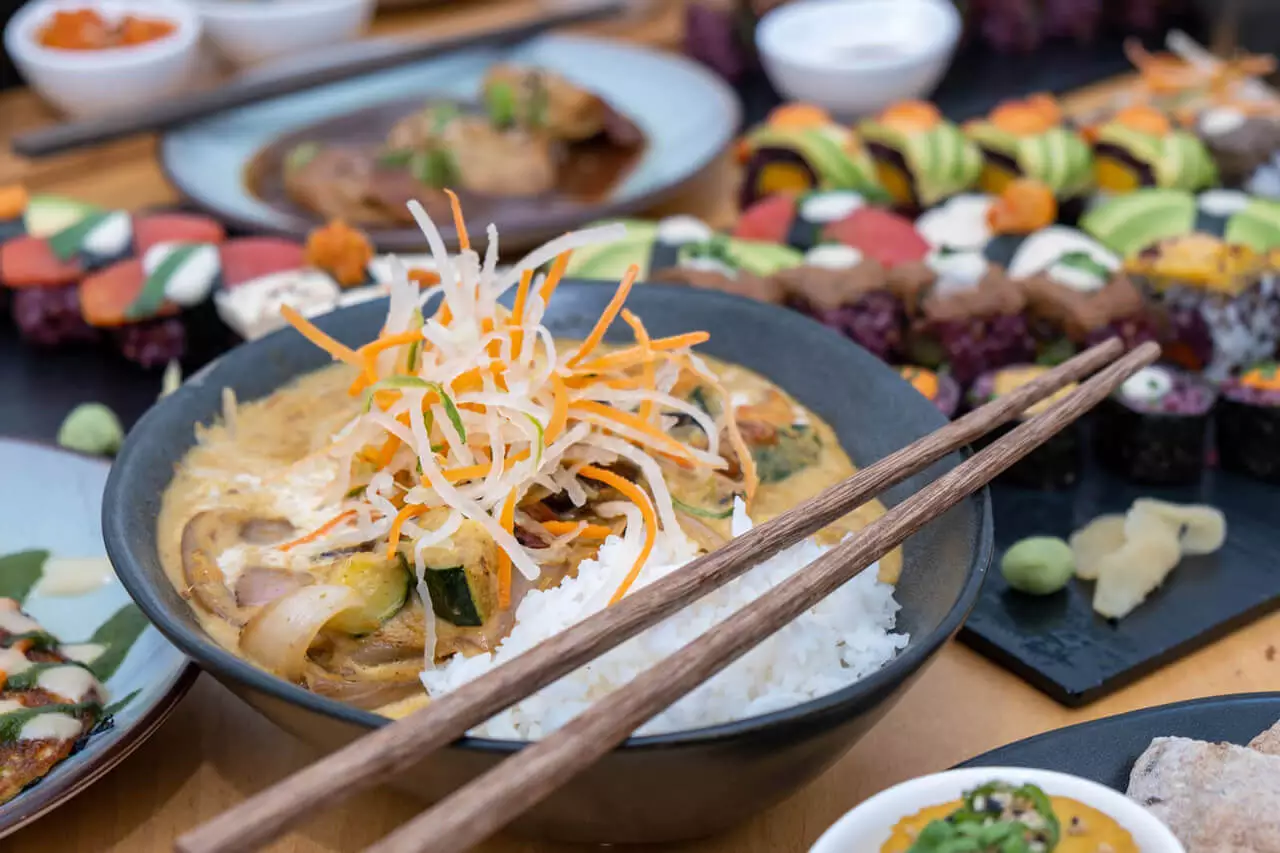 If you could pick only one sushi roll from your menu, which would it be?
This is so difficult! Our bestseller is the Jumping Jack which is made of black rice, heüra (a scarily-realistic meat substitute, similar texture to chicken), bbq jackfruit, rocket, caramelised onions, sesame, alioli & homemade hoisin sauce.
What have been some of the highlights for Roots & Rolls in 2019?
There's been so many. I personally get a real kick out of messing with the "carnivore mindset" when it comes to plant-based food. We have so many clients who come in for their first-ever plant-based meal and they're always stunned and thrilled with the quality of the flavours, textures and variety that we offer. This makes me really happy.
We feel that we're still on the "edge" of things in Barcelona and it can be difficult to convince people to have a group dinner in an entirely plant-based restaurant, but thankfully things are changing. Over Christmas, we had several large groups from tech companies with lots of young employees that are more eco-conscious. It's wonderful to see companies making these choices for their employees, to show them that you can still have a great Christmas event with no meat, fish or animal products involved. These groups were a real highlight.
Of course, we also love when we see repeat customers and we have a really high number of customers that come back again and again. People will come back with different members of their family, with friends, with visitors, it's wonderful to see that so many people want to shout about our food and share it with others.
And finally, what does 2020 hold for Roots & Rolls?
We have so many fun things lined up. Firstly, we change the menu three times per year to fit with which vegetables are in season. We have also changed our head chef and we can't wait to see what creativity they will bring to the table.
We will also have lots of exciting events and are collaborating with other vegan and plant-based people and businesses in Barcelona under the umbrella title "Living Plantastic". There will be a gala event on Saturday 18th January – red carpet, drag queen and DJ included! There will also be smaller group activities, from plant-based cooking workshops to beach trash pickups.
In general, we want to make plant-based, eco-conscious living more appealing and more exciting to the masses. If we work within mainstream channels, engaging with carnivores and herbivores alike, then we will reach more people and maybe convert more people to a eco-friendlier, more plant-based lifestyle.
We will continue to work on these ideas in 2020 and beyond, so watch this space!
Thank you Sandra!
BarcelonaTours.net: The Agency You Need for Event Planning in Barcelona
Make your group travel arrangements with BarcelonaTours.net to ensure the highest quality services. We organise hotels for groups, private transfers and group dinners in fantastic restaurants, such as Roots & Rolls!
Get in touch today for a personalised quote and start planning your event in Barcelona.