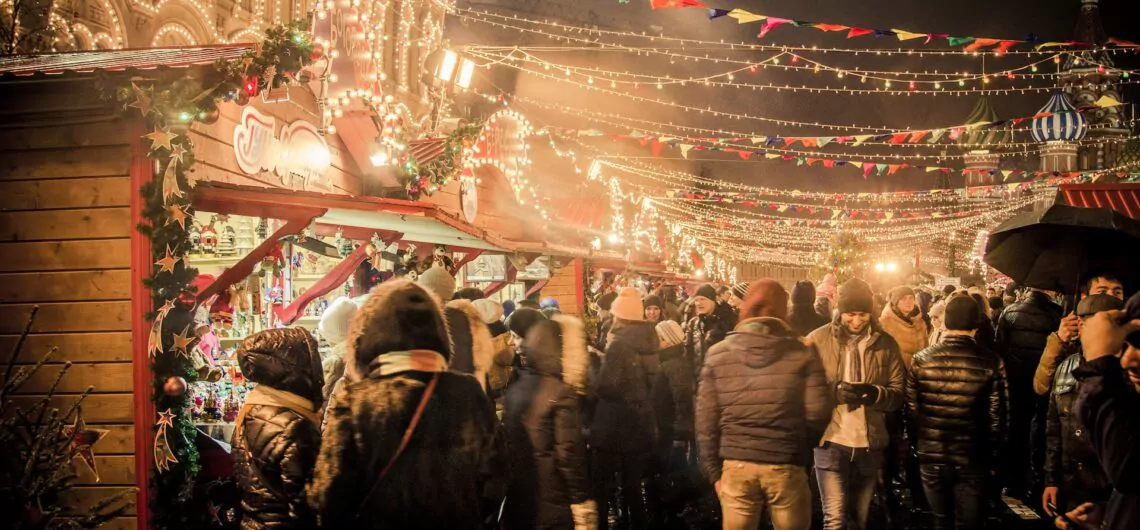 Barcelona in December: the Christmas lights are up, there's the distinct smell of roasted chestnuts, and a feeling of warmth – even though it's cold outside. This old city doesn't stop just because it's chilly in the streets and the wind is blowing leaves around the ankles of the locals. There's still plenty to see and do in Barcelona in December. Read on to find out how to make the most of this month in this Mediterranean city.
Barcelona Christmas Markets
Europe is known for its pop-up Christmas markets. And when that first market stall appears, it immediately feels like the festive season has begun.
Barcelona will be covered in great Christmas markets selling traditional goodies throughout December, with plants, decorations, gifts, and food available from little tables decorated with Christmas lights.
Although there are many markets, one of the most well-known is La Fira de Santa Llúcia taking place from November 24 to December 23, 2023.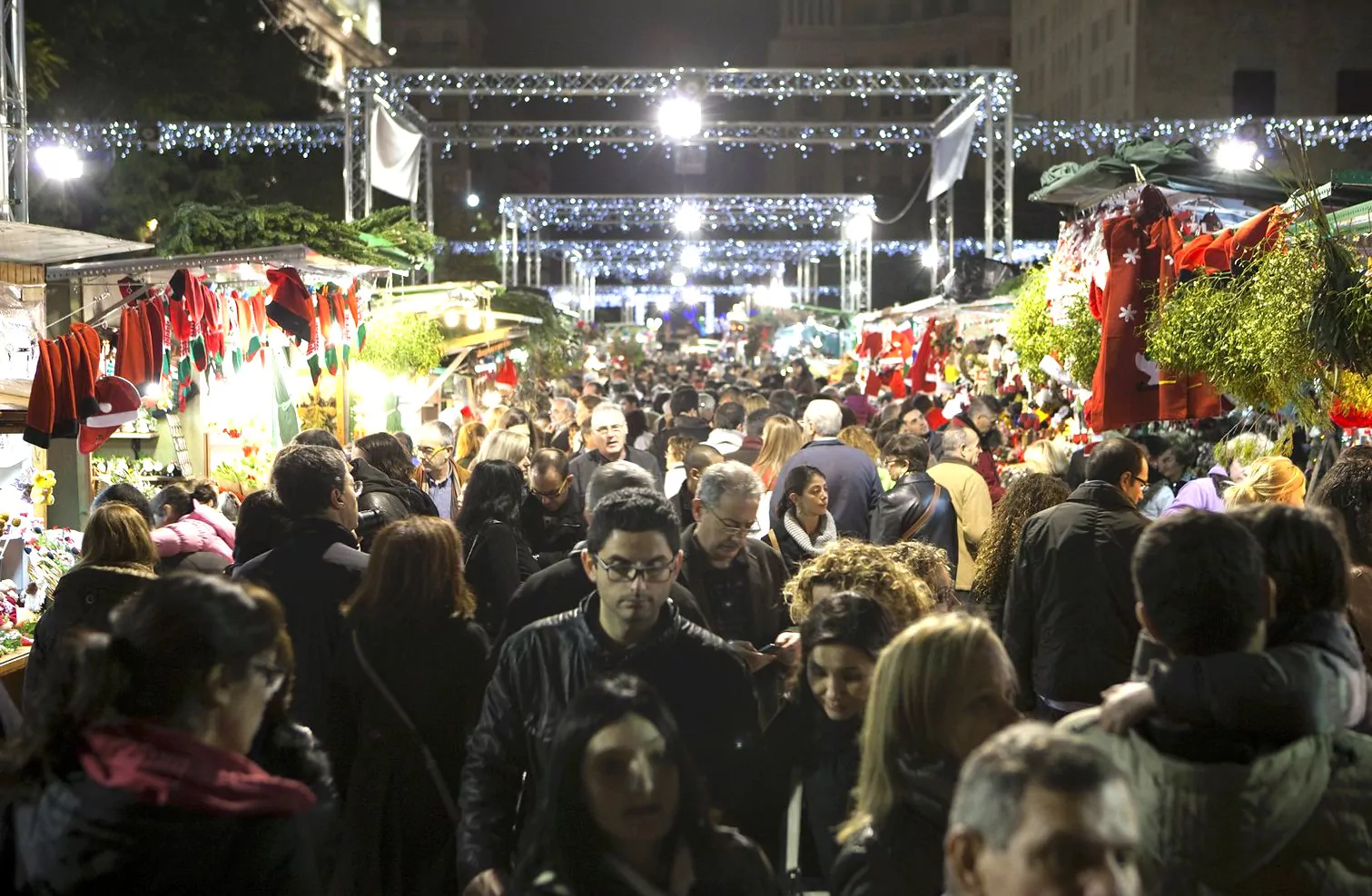 La Fira de Santa Llúcia
Arguably the most famous Christmas market in Barcelona, La Fira de Santa Llúcia is located directly in front of the Barcelona Cathedral (Avenida de la Catedral). The square, Plaza Nova, has ample space for the stalls and is filled with twinkling Christmas lights.
The first historical mention of the fair being held in this location is in 1786, which means it's celebrating its 237th year!
While it was originally a one-day event to honour Saint Lucia, whose day is celebrated on December 13, the fair gradually grew into the big, festive, market that you will find in Barcelona today. They proudly announce that even in 1860, when Barcelona was beset with a terrible case of yellow fever, the Christmas fair went ahead.
What to buy: all things artisan and handmade – Nativity figurines, musical instruments, plants, jewellery, and other pretty gifts to take home for family and friends.
Other activities: various activities are happening (see more here), including music, dancing and activities for kids. Look out for the traditional parade of the "gegants", or giants, which will be carried around the Gothic Quarter.
---
Magical Meals
There are so many delicious, comfort foods in Catalonia to keep you warm on a cold winter day. We've selected three dishes to look out for on local menus.
Arroz caldoso (Rice in broth)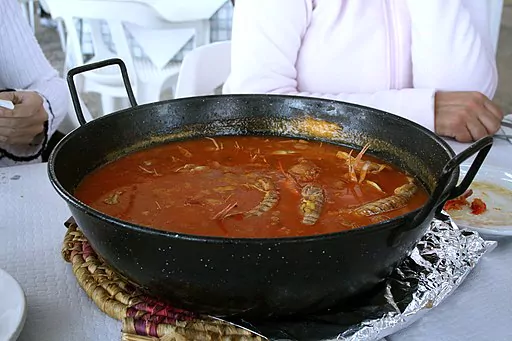 Everyone has heard of paella, the traditional rice dish from Valencia, Spain. However, we recommend trying arroz caldoso instead. Sometimes you will also see a version called arroz meloso… delicious! This type of rice is more liquid (caldoso) and comes with a rich, tasty stock, or caldo, with various ingredients which may include seafood or other types of meat. The most luxurious version is usually with lobster (bogavante)!
This dish will warm you right to the core and there are many options to choose from.
If you fancy trying your hand at cooking paella, and learning about the other great rice and tapas dishes in Spain, then we recommend our Paella Cooking Class.
Lentejas (Lentils)
Lentils (lentejas) are very popular in Catalonia (and Spain in general). They still form a staple part of the day-to-day diet of many Spanish people.
They are eaten in many different ways, but in winter you will find hot and hearty lentil stews on many local menus. The dishes include a base of cooked lentils with potatoes, meat (maybe chorizo or another type of cured sausage), tomatoes, garlic, and some fragrant additions like rosemary, thyme or bay leaves.
Churros con Chocolate (Spanish donuts with Chocolate)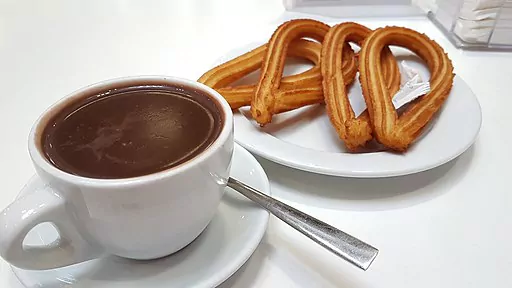 Now, you may not find churros con chocolate in the same restaurant as your rice and lentils, but it's worth taking a walk to find excellent churros with thick, melted chocolate.
Take a walk down Carrer de Petritxol – the street that is known as the chocolate street – for the best of the best when it comes to this traditional treat. For the locals, it's not a dessert but a snack that is eaten in the early evening, around 5 or 6 pm. Of course, you can eat it whenever you like!
Take your churros dusted with icing sugar, dip them in chocolate, or even chocolate topped with whipped cream, it's up to you.
---
Merry Making: Polaroids, Parties, and Flamenco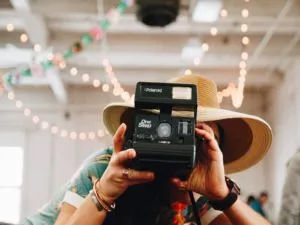 Just like the rest of the year, Barcelona in December is all about eating, drinking, and enjoying yourself! If the markets and delicious meals aren't enough, get in touch with BarcelonaTours and we will help organise an amazing activity for you.
One of our most popular is the Barcelona Photo Treasure Hunt (which is a guaranteed good time). Visit different parts of the city taking photos with vintage Polaroid cameras and take home a keepsake album.
Get into the Christmas spirit with a visit to the Poble Espanyol (the Spanish village), and see this recreation of traditional Spanish architecture decorated for the festive season. Finish the visit off with an amazing Flamenco Show with Tapas or a three-course dinner and drinks.
Company Christmas Parties
Are you planning your office Christmas party in Barcelona? Get in touch with BarcelonaTours to start planning the best Christmas party in town! From private venues and group dinners in some of the best places in the city to dancing all night with VIP tables, we can help you put together an unforgettable evening.
Contact us here, email info@barcelonatours.net or call +34 935 008 226.
This blog was originally posted in 2018. It was updated on November 14, 2019, November 22, 2022 and November 2023.