Looking for team building activities in Barcelona? 
Here are some things you won't want to do: sit in a windowless conference room. That overused activity where you fall back and pretend not to catch each other. Cringe-inducing team meditation. An in-office buffet.
If you want to avoid all those banal bore fests, Barcelona is a great choice for team building, team building activities and corporate events – and for plenty of reasons.
Why Barcelona for Team Building?
First, you get all the obvious good stuff! Including city-center beaches, constant sunshine, great weather, tasty food, Spanish smiles, countless restaurants, buzzing bars, excellent architecture, mega-famous sites, and one of the world's best city breaks.
Secondly, and on top of the good stuff, we've built an incredible package of Barcelona-based corporate events and team building activities. Some of our most popular take place on the sea, in, on and around Barcelona's shimmering shorelines.
Our most popular team building activities on the sea include: 
Escape Boat
We work with the best Escape Room company in Barcelona to offer you on-boat Escape Room experiences that are fun, unique and genuinely exciting. You get 60 minutes on the deck of a boat to show why you're not all absolutely useless. And, even if you don't solve the problems, at least you'll enjoy sailing along Barcelona's beautiful coastline.
Sailing Regatta
For those of you who aren't well-versed in maritime lingo, a regatta is basically just another way of saying a race. For this sailing regatta experience, you and your team are split into groups and given the help of an experienced captain. All team members are active participants in the race, which is preceded by eating, training and learning about in-race maneuvers.  A fast-paced and fun activity, which really gets people working together to win the race!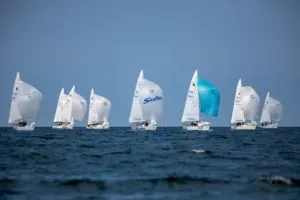 On-Catamaran Wine Tasting
For a gentler boat-based experience, we give you a catamaran, a trained sommelier, and a load of wine. You then enjoy it all in a tasty, relaxing, indulgent package of sun, sea, and slurping.
With space for more than 100 people, you get great wine, unbeatable panoramas, and a relaxing jaunt along Barcelona's incredible coast.
If the sun is shining, which it probably will be, take your swimsuits to make a refreshing swim stop during the trip.
Check out the catamaran hire options for more information
Team Building Activities for Land Lovers
If you don't want to explore Barcelona by sea, we offer landlubber-friendly team building activities and corporate events too. Our on-land options include tapas cooking, Barcelona Wipeout (our ridiculous version of Total Wipeout), flamenco nights, treasure hunts, salsa classes, graffiti projects, tours of the city and much more.
No matter whether you'd prefer a sea-based experience or an on-land event, we only craft bespoke, flexible experiences specifically tailored to what you and your team actually want to do. Want to make an event shorter? Longer? Gentler? More intense? Want to start at your hotel? Whatever you want from your Barcelona team building experience, that's what we'll give you.
A team building event shouldn't feel like work – it should feel like fun.  And with us, it will.
For genuine, authentic, non-forced fun with your team, come and enjoy some team building activities and corporate events in Barcelona. For corporate events and team building activities, Barcelona is one of the best cities on the planet.
Get in touch with the Barcelona Tours team to chat about the options!